Archived News
September 7, 2012 - Audition changes
Due to popular demand, audition dates have been added and changed! Anyone affected by the change will be contacted via the e-mail they signed up on Doodle with.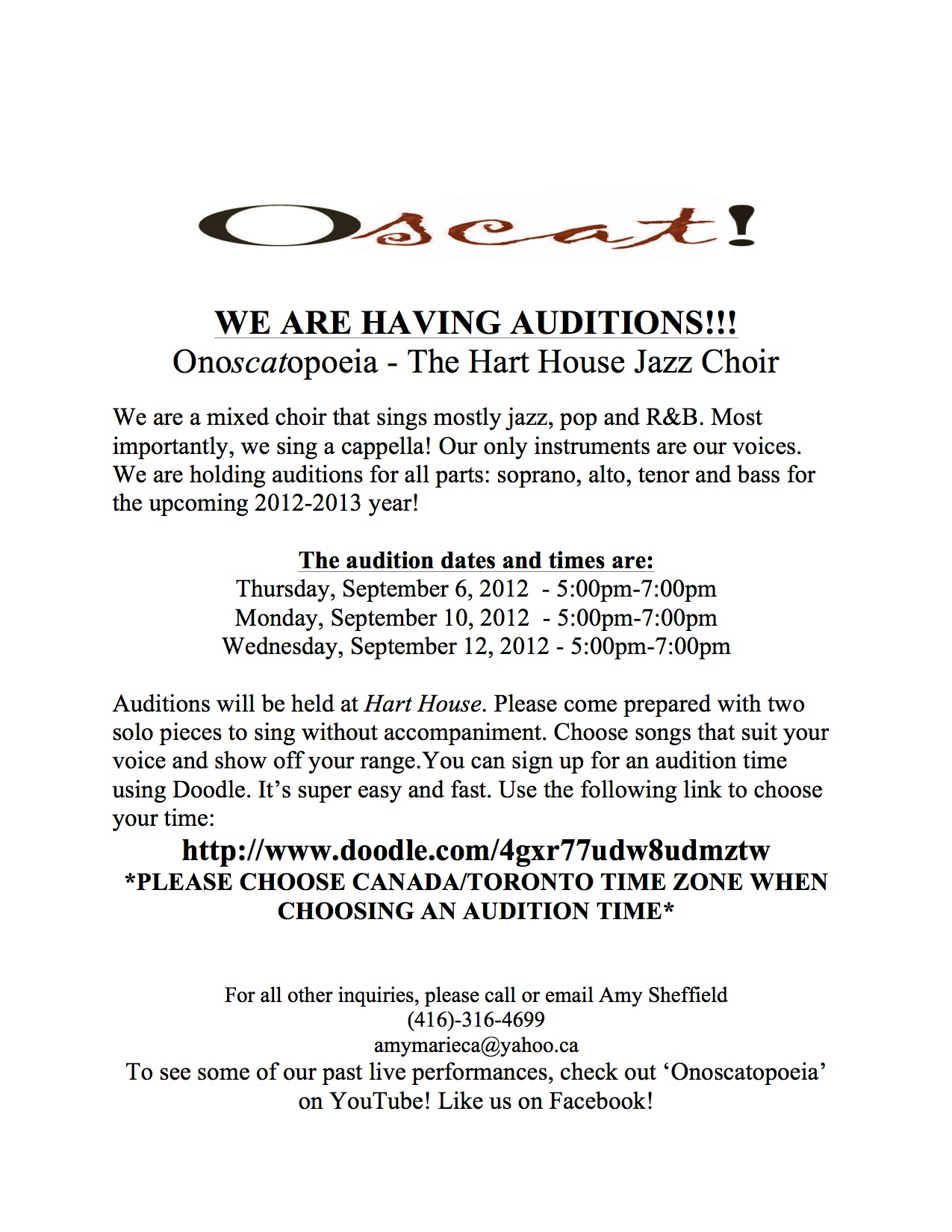 August 21, 2012 - Auditions are coming!
That's right, it's that time of year again! We're looking for fresh and exciting voices! Bring us your best jazz and/or your best pop, and the attitude to blow our socks off.
March 20, 2012 - Spring Concert 2012
If you're in the Greater Toronto Area and need the satisfying and soulful melodies of a world class collegiate a cappella group, come out Thursday March 29th!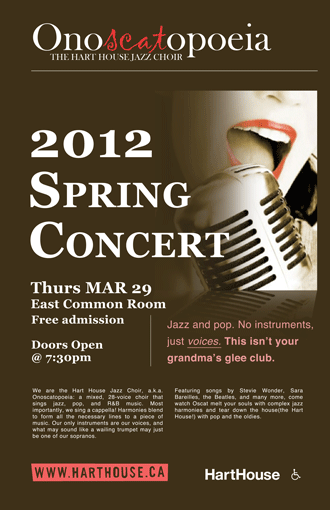 November 29, 2011 - Fall Concert 2011
Come out to our Fall Concert this Friday, December 2!
6/9/2011 - Auditions for 2011/2012 start NOW!
Follow us on Facebook for the latest details.
Not sure if this is right for you? Come check us out at the open rehearsal on Monday Sept 12th at 5pm in the East Common Room in Hart House.
Sign Ups
Please sign up for auditions via Doodle (click on the link below corresponding to the date you want)
Monday Sept 12th, 6 - 9 pm
http://www.doodle.com/y2gkn64wfsim4aut
Tuesday Sept 13th, 3 - 6 pm
http://www.doodle.com/6997vzb8i6utp2zf
Wednesday Sept 14th, 6 - 9 pm
http://www.doodle.com/zbgwrx588b2vw949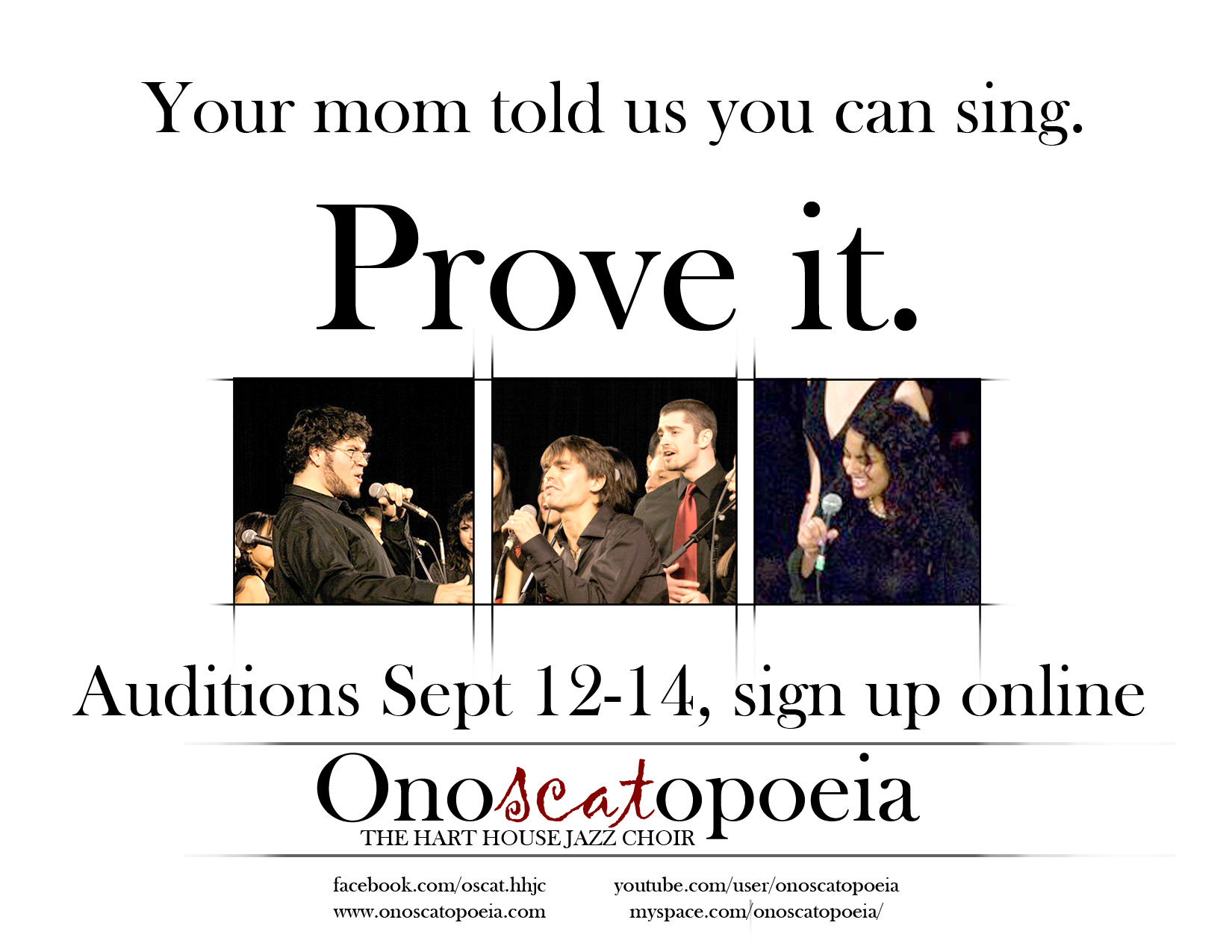 ---
9/13/2010 - Sign ups are done! BUT WAIT!
Thank you everyone for your enthusiasm! All 70 of our spots are filled, but due to popular demand, we are making some exceptions!
Drop by the auditions on Tuesday and Wednesday, you will have to wait a bit as those signed up will have priority, but you'll eventually get in for a shot! Drop in times below:
Tuesday Sept 14 11am-3pm (Music Room, Hart House)
Wednesday Sept 15 8pm-10pm (South Dining Room, Hart House)
8/30/2010 - Oscat 2010/2011 Audition Sign-ups are up!

For the first time, Oscat audition sign-ups will be online! Sign up for your audition time slot below. UPDATE: Wednesday evening added for individuals who can't make it out before 5pm.
Sunday Sept 12(filled)
Monday Sept 13(filled)
Not sure if Oscat is right for you? Come out to our Open Rehearsal Monday Sept 13 from 5pm-6:30pm and see for yourself!
Please note that being in Onoscatopoeia requires a Hart House membership, which is open to all individuals who have taken a minimum of 4 credits at any university or automatically for all current University of Toronto students. If you have any comments or questions, contact us at onoscatopoeia @utoronto.ca
8/18/2010 - Mosaic does Jazz(and so does Oscat!)
Oscat and the Samba Squad will be performing at the annual "Mosaic does...Jazz" music festival on August 18th! The music is free and steps from Danforth.
Details at http://www.danforthmosaicbia.com/blog/?p=3133
---
6/1/2010 - Oscat is Hiring!
Following an amazing year for Onoscatopoeia, we are looking for a new musical director! Applications closed, thanks to all who applied.